Welcome to NAM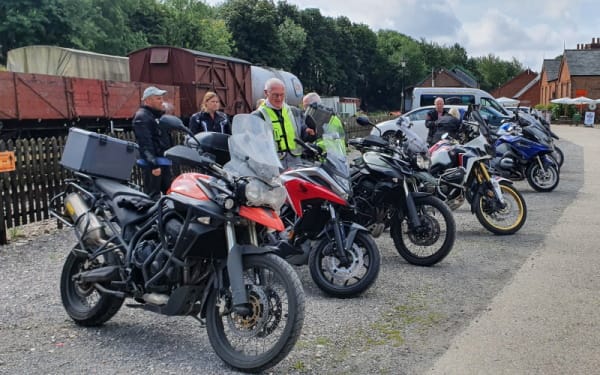 Welcome to the Norfolk Advanced motorcyclists (NAM). We are a registered charity affiliated with the Institute of Advanced Motorists (IAM).
The organisation started in 1984 with the aims of raising standards of riding among motorcyclists, promoting road safety and, above all, enjoying progressive riding.
We have around 200 members with ages ranging from teenagers to septuagenarians, running bikes of all types and sizes; commuters, touring bikes, adventure, super-sports, cruisers and classics. What we have in common is a shared interest in motorcycling and a love of riding motorcycles.
We offer opportunities to develop riding skills, encouraging and supporting members to become Advanced Riders. While the IAM test is the benchmark of an advanced rider, we believe that learning never stops and encourage members to continue improving beyond the test standard.
There is a thriving social aspect to the group, with members participating in track-training days, off-roading, touring and race schools. There are regular ride-outs, occasional weekends away and sometimes trips to destinations requiring a passport (Suffolk and beyond?).
We organise a Group Ride EVERY Sunday starting at the Thickthorn McDonalds in Norwich. The routes are pre-planned and published in the 'Rides' section on the website and within our bi-monthly newsletter.
The purpose of the rides is for FULL members of both IAM and NAM to maintain the riding standard required for success in the IAM Roadsmart test and for associate members of both IAM and NAM to complement their 'one-to-one' sessions with a qualified Observer.
If you wish to consider joining us for a Group Ride but are not an IAM and NAM member or have never been before please consider attending only on the 1st or 3rd Sunday of the month. On these Sundays, there will be at least one Qualified Observer in attendance. Please contact the Chief Observer to register your interest and possible attendance date well in advance of the Sunday you wish to attend. This will ensure the Duty Observer is aware and can provide a safety briefing before the departure time of 09:30. The Duty Observer will be wearing a NAM logoed Hi-Vis jacket or can be pointed out to you by one of the other riders there.
We encourage non-members to attend Group Rides rides but would respectfully request they attend no more than TWO rides before making a commitment to join both IAM and NAM.
The Group Ride Rules are detailed within the 'Rides' section.