Joining
Why Join NAM?
Apart from the thriving social community within the organisation, the main purpose of NAM is to help its members become safer riders.
Every year, thousands of people are killed or seriously injured in road traffic accidents as a result of human error. Motorcyclists, in particular, are vulnerable and often come off considerably worse than others involved regardless of whether the accident was their fault. By adopting the progressive and defensive riding techniques promoted by the IAM (and taught by us), motorcyclists become far more aware of the hazards around them and are far less likely to be involved in accidents.
In light of this, IAM Surety Insurance is able to offer very competitive rates to those who have passed the IAM test, or your existing insurer may be prepared to give you a discount.
How Can We Help You?
Whatever your age or experience, you never stop learning – this is at the heart of IAMs progressive riding ethos which develops a continuous process of learning and developing your roadcraft skills. Our team of trained observers will not only prepare you for your IAM road test, but they are also available to help you develop your skills afterwards.
The Advanced Rider Course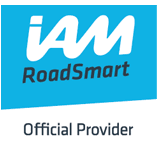 You will be placed with a dedicated observer who will accompany you on 1-to-1 rides, each of which will consist of regular stops in order to offer advice and pointers for improvement, and will end with a comprehensive debrief, usually over a cup of coffee or tea somewhere. It will typically take 6-8 observed rides to get you ready for the IAM road test (sometimes more depending on circumstance), but we'll make sure you're at your best before you take it.
The Institute of Advanced Motorists is a nationally recognised standard. The criteria for the IAM tests are based on the Motorcycle Roadcraft manual. The IAM's own book, "How to be a Better Rider" is based on this same manual and is suitable for gauging what is required for the test.
How Much Does It Cost?
The inevitable question, and not as much as you might expect. The advanced rider course costs £175 which includes one year's associate membership of Norfolk Advanced Motorcyclists, a copy of the IAM Advanced Rider Course Logbook, the IAM test fee and one year's subscription to the IAM once you've passed your test.
In addition to this, you will also be asked to pay a small contribution towards the cost of petrol and wear and tear on the observer's bike – typically £15 per ride.
Beyond that, annual membership fees are £43 for the IAM and £25 for NAM.
Are You Eligible?
If you hold a UK 'A' or 'A2' motorcycle licence and ride a bike that is capable of sustaining the national speed limit for prolonged periods, then yes.
So, Should You Join?
Do you want to get more out of your riding?
Do you want to ride more safely?
Do you lack confidence in any aspect of your riding?
Do you think you could improve with some guidance?
If you answer yes to any of these questions then it doesn't matter if you're new to riding or an old hand, you will benefit from joining. Get in touch.